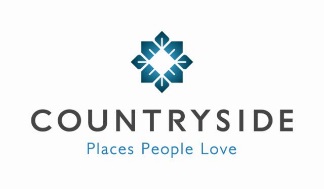 Countryside is a leading UK home builder specialising in place making and urban regeneration who are pleased to be supporting Knowsley at MIPIM UK for the third year running.
Our Partnerships Business specialises in urban regeneration of public and privately owned land, delivering a range of tenures, appropriate to market context. This incorporates private for sale and private rented housing but also affordable homes in various tenures, in so doing working extensively in partnership with private and public bodies, including Local Authorities and Housing Associations.
We believe that we are one of the most effective strategic land developers and urban regeneration partners in the UK.
Our achievements are exemplified by the receipt of more than 340 awards for design and sustainability since 2000.   We hold more Housing Design Awards than any other home builder and we are the only home builder to receive the RIBA Stirling Prize for a housing development.
All our homes and developments carry a signature style and character, designed to work for the way people live today with materials that reflect our commitment to quality.  Our exacting standards and sustainable credentials combine to create places that will stand the test of time.
We have been working in partnership with local authorities, housing associations and government agencies for more than 30 years.
We engage with local authorities and residents at an early stage to create high quality design and landscaping schemes as we have done with Knowsley. It was this engagement process which led the Council to select us as their development partner following a two year OJEU regulated selection process. The result is that we are currently delivering a range of 2, 3 and 4 bedroom houses in a variety of sizes and tenures on five separate sites throughout Knowsley.